San Diego Regional Recap
Congratulations to ALL Teams, Mentors, Volunteers, Sponsors, Friends and Family members who participated in the San Diego Regional and helped to create an exciting and memorable weekend.  The positive energy, intense competition, well run event and a lot of press attention and photos made for a weekend to remember!
The following teams and individuals earned top honors at the Regional and will be going on to compete at the Championships in St. Louis in April.  We wish them the best of luck!
Regional Chairman's Award
Team 1538, The Holy Cows – from High Tech High in San Diego, CA
The San Diego Chairman's Award represents the true spirit of FIRST.  It honors the team that best serves as a model for other teams to emulate and that embodies the goals of FIRST.  It remains FIRST's most prestigious team award.  The Chairman's Award is presented to the team judged to have the most significant measurable impact of its partnerships among its participants, school, and community over a sustained period, not just a single build season or school year. The winner is able to demonstrate progress towards FIRST's mission of transforming our culture.  The recipient will be invited to the FIRST Championship where it will compete for the Chairman's Award against the winners from all the other qualifying events.
Here's what the Judges had to say –
"Leveraging their impactful branding, this team has created a strong foundation in the San Diego area and provides strong monitoring and support to new and developing FLL, FTC and FRC Teams.

This team has embarked on long-term multi-year objectives to promote FIRST at the local, state and national levels.  These include establishing Robotics as a recognized high school sport.  Developing an "udder" full of information through tips and scouting databases, this team is providing key information to all in the FIRST family.

Amongst a group of increasingly capable teams, this team continues to be horns and hooves above the rest, focusing on gracious professionalism and reaching celestial levels. This team hasn't been satisfied to sit back and chew the cud, and instead has been developing greener pastures for all.

Congratulations to Team 1538, The Holy Cows!"
Engineering Inspiration
Team 1622, Team Spyder from Poway High School in Poway, CA

The Engineering Inspiration Award celebrates outstanding success in advancing respect and appreciation for engineering within a team's school and community.  This team will advance to the Championships and receive a $5000 grant toward registration.
Here's what the judges had to say –
"This team consistently exhibits a "can-do" attitude and it extends to every single person on the team.  When challenged time and time again about their team history, each team member in turn articulated the history and heart of this team.  They have been extremely successful, having touched and inspired over 55,000 people by their own well-documented records. The team is bot sensitive and resilient like the web of their namesake.

Congratulations to Team 1622, Team Spyder!"
Regional Winners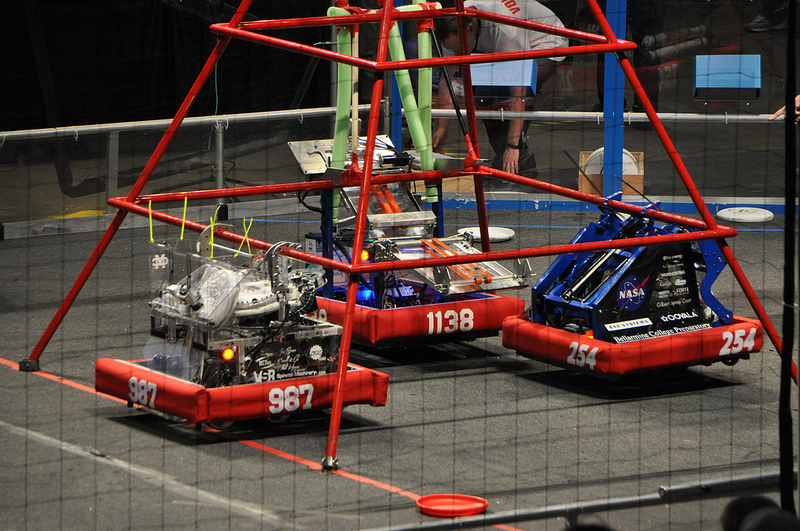 Team 254, Cheesy Poofs
San Jose, CA

Team 987, High Rollers
Las Vegas, NV


Team 1138, Eagle Engineering
West Hills, CA
Woodie Flowers Finalist Award
Rodger Dohm
Mentor for Team 1622, Team Spyder, from Poway, CA

A few years after helping Dean Kamen create FIRST, Dr. William Murphy founded the Woodie Flowers Award with the intent to celebrate effective communication in the art and science of engineering and design. At the FIRST Championship in St. Louis, the essays of this year's finalists will be combined with previous finalists. One mentor will receive the Championship Woodie Flowers Award.
You can read the essay that Rodger's team submitted here.
Dean's List Finalist: Honoring FIRST Student Superstars
FIRST Dean's List Finalist #1 – Soren Price, Team 3128 – San Diego, CA
FIRST Dean's List Finalist #2 – Nicole Gonzales, Team 1622  – Poway, CA
In an effort to recognize the leadership and dedication of FIRST's most outstanding FRC students, the Kamen family sponsors an award for selected top students known as the FIRST Dean's List.
This award celebrates a student's outstanding leadership and effectiveness in advancing respect and appreciation for engineering and engineers, both within their school, as well as their community. FIRST Dean's List Finalists will compete at the championship for the FIRST Dean's List.
Rookie All-Star Award
Team 4673, Solar Engineering from Mexicali, Mexico
This award celebrates a 1st year team demonstrating an early but strong partnership effort, implementing the mission of FIRST.  Its winner understands what FIRST is really trying to accomplish and realizes that technical work is fun and challenging, made better by building a partnership among team, community and school.  This is not an easy challenge for a rookie team but the judges want to recognize and reward one team that got it right.
Here's what the judges had to say –
"This Rookie team has established a program that will be a strong contender for many years.  A very solid business plan, a well-built robot, strong Corporate partners and an incredibly strong spirit will continue to unite this team for years to come.

Congratulations to our new Rookie All Star, Team 4673, Solar Engineering!"
Additional Awards
Congratulations to the Teams and individuals that earned the remaining awards at the San Diego Regional! See the list here.
Community Support
The San Diego community came out in full force to support the San Diego Regional.  With almost all TV stations in San Diego highlighting key aspects of FIRST through interviews and great reporting, we were able to encourage the public to come out to don a pair of safety glasses, explore the pits and experience Ultimate Ascent first-hand.
We were also honored to have San Diego City Mayor Filner and City of Chula Vista Mayor out to show their support and share words of wisdom.  Councilmember Sherri Lightner also shared her enthusiasm for FIRST and presented the proclamation for "FIRST Robotics Days" in San Diego from March 7-9, 2013.
FIRST Impressions
Throughout each day, we saw numerous first hand examples of FIRST values and qualities – Gracious Professionalism, Coopertition, Critical Thinking, Team Work and Leadership to name a few.  One story of many that we'd like to share is a great example of how Gracious Professsionalism and Coopertition combined with unity and national pride brought teams closer together.
With teams represented from Mexico at the San Diego Regional, we have traditionally asked one team on each day to sing the Mexican National Anthem during Opening Ceremonies for Day 2 and Day 3.  In the past we've had no more than 2 teams, so each team had the opportunity to sing on one day. With 3 teams from Mexico this year, the planning committee had to choose which 2 teams were given the chance to sing so we asked them to participate in tryouts.
When it came time for the first Mexican team to audition, a representative from each of the 3 Mexican teams came in together instead.  They explained that while sitting in the waiting room to audition they decided that they'd prefer to audition as one united group so that no one gets left out.   This act of sensitivity, respect and kindness in the face of competition exemplifies the core values of FIRST.  As a bonus, it turned out that all 3 had beautiful strong voices and represented their country well each morning during Opening Ceremonies.
Share Your Stories!
We hope you too had a profound experience at the San Diego Regional.  We'd love to hear your stories.  Please consider sharing them with us here in the comments below or on our facebook page.  Photo and video links welcome!
Relive the Memories!