Congratulations to ALL Teams, Mentors, Volunteers, Sponsors, Friends and Family members who participated in the 14th Annual Los Angeles FIRST Robotics Regional presented by The Roddenberry Foundation and helped to create an exciting and memorable weekend.
Definitely an amazing and exciting event!  High energy matches, a very special visit from FIRST President Donald Bossi, wise words shared by SpaceX's Tom Mueller, incredible sponsor involvement including a presentation by Heidi Roddenberry and great media attention.
Rich DeMuro's Tech Report on KTLA:
QUALIFIED FOR CHAMPIONSHIPS IN ST. LOUIS!!!
The following teams and individuals earned top honors at the Los Angeles Regional and earned their way to compete at the FIRST Championships in St. Louis in April.
Regional Chairman's Award
Team 2576, Chilean Heart – Santiago, Chile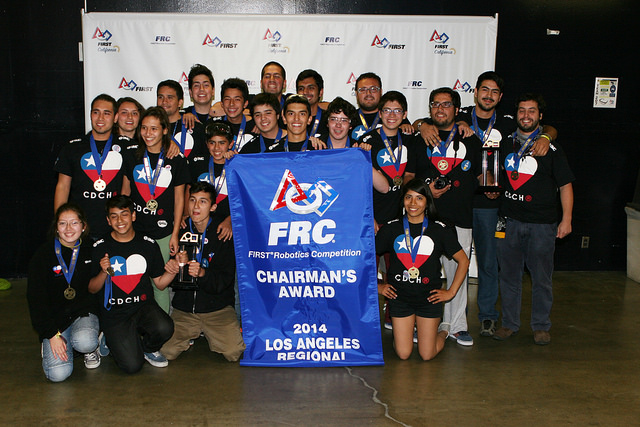 The Los Angeles Chairman's Award represents the true spirit of FIRST.  It honors the team that best serves as a model for other teams to emulate and that embodies the goals of FIRST.  It remains FIRST's most prestigious team award.  The Chairman's Award is presented to the team judged to have the most significant measurable impact of its partnerships among its participants, school, and community over a sustained period, not just a single build season or school year. The winner is able to demonstrate progress towards FIRST's mission of transforming our culture.  The recipient will be invited to the FIRST Championship where it will compete for the Chairman's Award against the winners from all the other qualifying events.
Here's what the Judges had to say –
"This team comes from a culture that does not celebrate science and technology. They embarked on a five year plan with a goal of establishing at least one new FRC team. In the process, they have created an environment where 90% of the team members go on to a four year university and 70% of them pursue STEM majors.  Traversing an entire country and beyond, they have exceeded their team's plan by creating three FRC teams-two in their country and one in Long Beach."

Engineering Inspiration
Team 3309, Friarbots – Anaheim, CA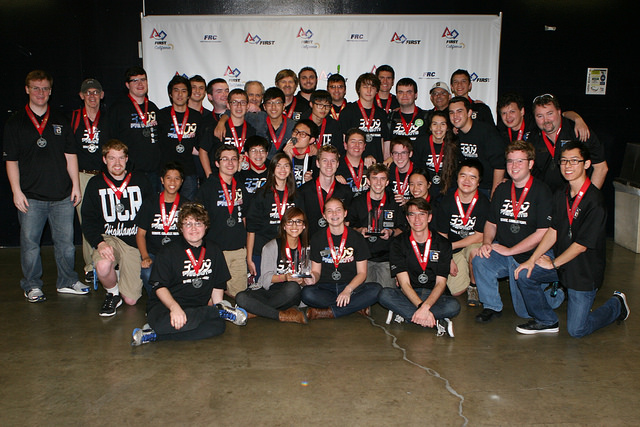 The Engineering Inspiration Award celebrates outstanding success in advancing respect and appreciation for engineering within a team's school and community.  This team will advance to the Championships and receive a $5000 NASA grant toward registration.
Here's what the judges had to say –
"This younger team has grown by leaps and bounds since their inception: spanning 3 schools, growing by a factor of 3, and currently comprised of 30% women. They have founded an alliance in their county which brings their brothers and sisters together in the spirit of cooperation and gracious professionalism. Their outreach is also a multiple of three, as they run a robotics summer camp, host middle school workshops, and run a peer mentoring program. As you can see, this team is all about threes, even stretching to their team number: 3 times 3 plus zero equals 9."

Regional Winners
Team 294, Beach Cities Robotics from Redondo Beach, CA;
Team 1717, D'Penguineers from Goleta, CA;
Team 5124, West Torrance Robotics from Torrance, CA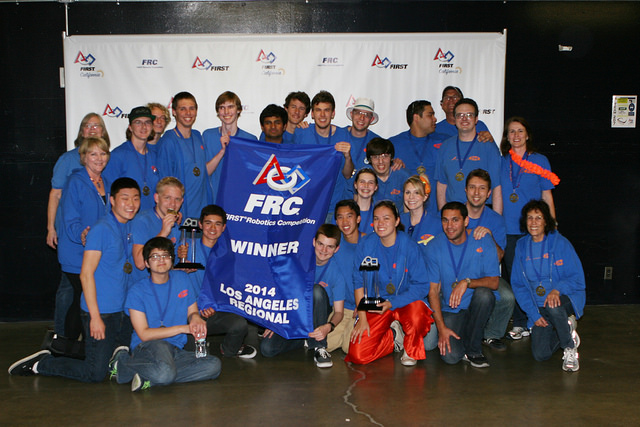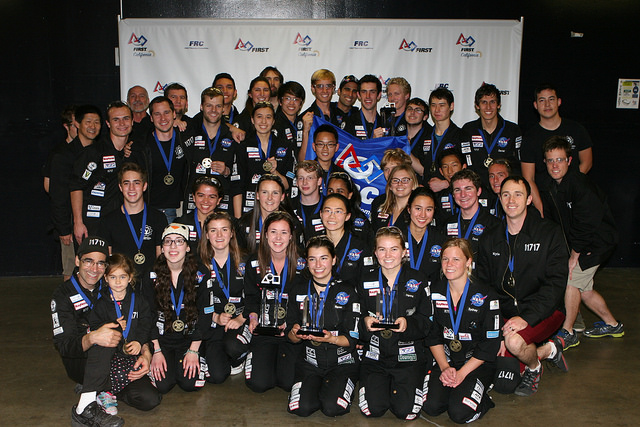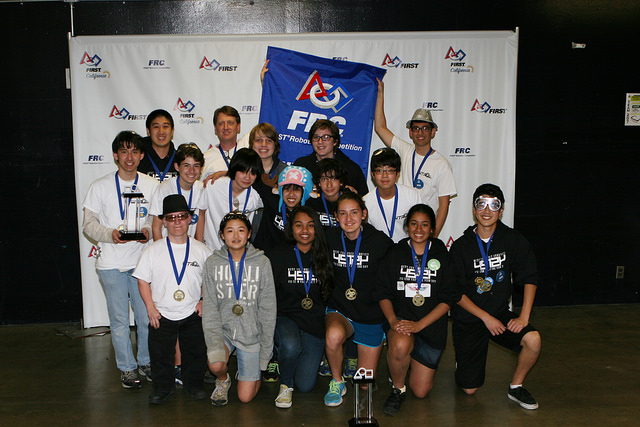 Rookie All-Star Award
Team 4997, The Golden Machine from Long Beach, CA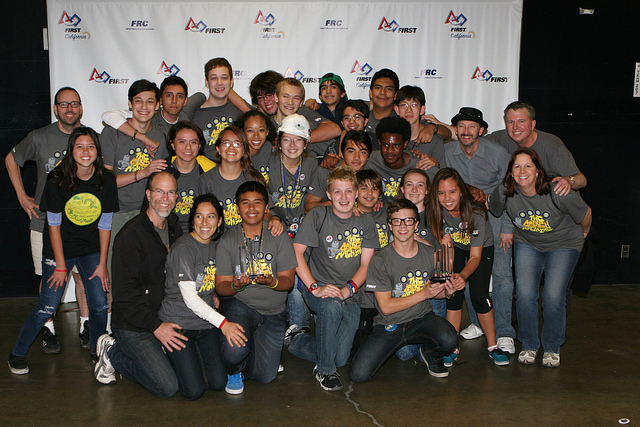 This award celebrates a 1st year team demonstrating an early but strong partnership effort, implementing the mission of FIRST.  Its winner understands what FIRST is really trying to accomplish and realizes that technical work is fun and challenging, made better by building a partnership among team, community and school.  This is not an easy challenge for a rookie team but the judges want to recognize and reward one team that got it right.
Here's what the judges had to say –
"This multi-school team took the time to diligently plan for their rookie season and beyond. Their activities have focused on informing key individuals in the education system, spreading the importance of engineering project based learning and providing training in areas of safety and skill sets to help raise robotics to a level on par with sports programs.

Although they received excellent guidance from their mentors, time demands raised expectations of team members to manage the team and they truly rose to the challenge."
Dean's List Finalist: Honoring FIRST Student Superstars
FIRST Dean's List Finalist #1 – Jocelyne Perdomo, Team 207 from Hawthorne, CA
FIRST Dean's List Finalist #2 – Ryan Gulland, Team 294 from Redondo Beach, CA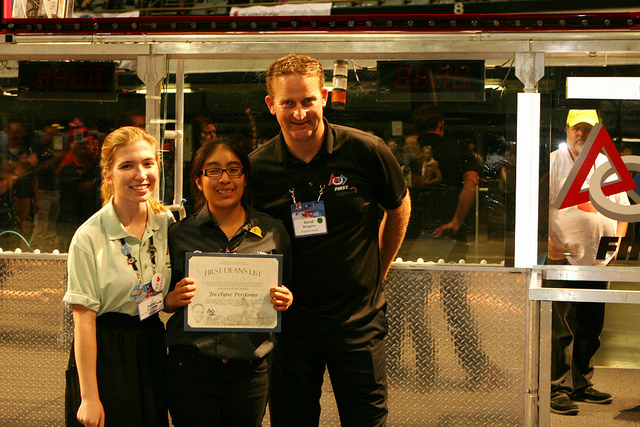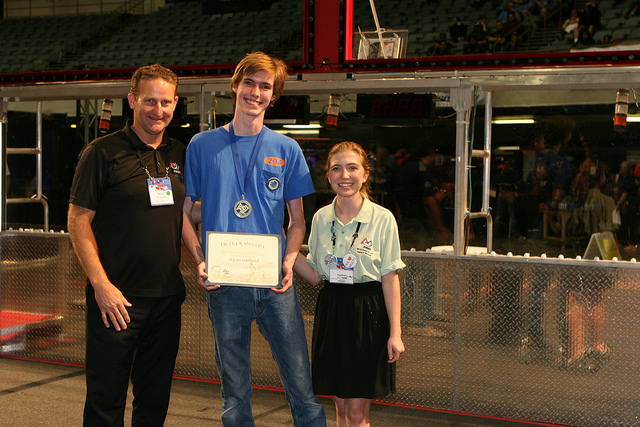 In an effort to recognize the leadership and dedication of FIRST's most outstanding FRC students, the Kamen family sponsors an award for selected top students known as the FIRST Dean's List.
This award celebrates a student's outstanding leadership and effectiveness in advancing respect and appreciation for engineering and engineers, both within their school, as well as their community. FIRST Dean's List Finalists will compete at the championship for the FIRST Dean's List.

Woodie Flowers Finalist Award

Lucas Pacheco
Mentor for Team 207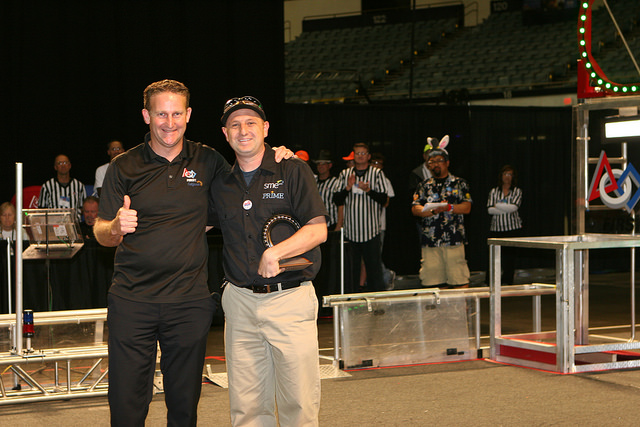 Volunteer of the Year Award
Stephen and Jill Petty
We can't thank them enough for their ongoing commitment and hard work to ensure that the Los Angeles Regional continues to thrive.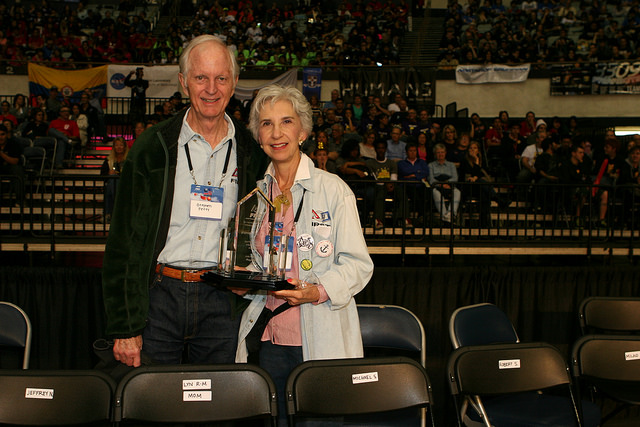 Additional Awards
Congratulations to the Teams and individuals that earned the remaining awards at the Los Angeles Regional! See the list here.
Support
An immense THANK YOU to all the Sponsors who contributed to this very successful Regional with funding, mentors, volunteers and enthusiasm!
Regional Sponsors include The Roddenberry Foundation, Raytheon, Boston Scientific, Northrop Grumman, Google, Eaton, Walt Disney Imagineering, The Ralph M. Parsons Foundation, Kenneth T. and Eileen L. Norris Foundation, Gerald Oppenheimer Family Foundation, Mr. & Mrs. Stephen Petty.
Media Attention
Relive the Memories!
We hope you too had a profound experience at the Los Angeles Regional.  We'd love to hear your stories.  Please consider sharing them with us here in the comments below or on our facebook page.  Photo and video links welcome!