JIM BECK | CALIFORNIA SENIOR REGIONAL DIRECTOR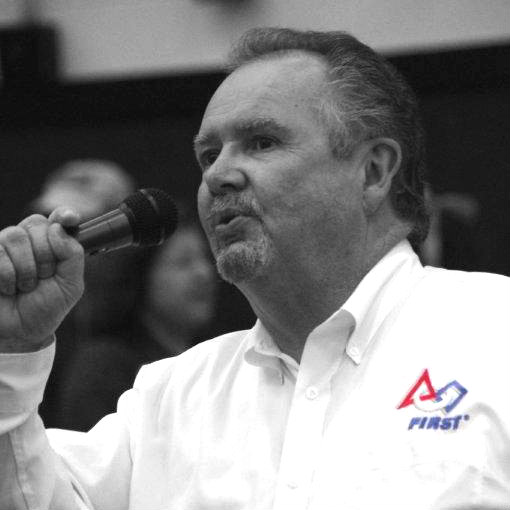 Jim Beck has been involved with FIRST programs all over the Western United States for over 13 years. He works actively with the 215 California FRC teams on the future of FRC and FIRST. He has responsibility for FRC regional competitions in Silicon Valley, Sacramento, Central Valley, and Inland Empire. Previous to his full time position at FIRST, Jim was a Professor of Engineering Technology in the College of Engineering at San Jose State University. Over his 33 year career in Higher Education he held numerous instructional and administrative positions. He continues to work vigorously for all the students involved in FIRST and is often heard saying "I do it for them but they keep me young"
DAVID BERGGREN | SOUTHERN CALIFORNIA REGIONAL DIRECTOR
A native San Diegan, David Berggren graduated from the California Maritime Academy with a BS in Marine Engineering Technology and a USCG Engineering License.  After six years of work as a shipboard engineer he started teaching at High Tech High in Point Loma, San Diego, where he has been for the last eleven years.   Currently he teaches Engineering at High Tech High, and founded FIRST Robotics team 1538 – The Holy Cows.  Seeing the amazing impact that the FIRST Robotics program had on his students, David decided to get more involved with the program.  After working as the FIRST Senior Mentor for San Diego for two years he was asked to take on the role of Assistant Regional Director, which he did for one year.  This was followed by the state of California being split in half and him moving into the FIRST Regional Director of Southern California; a role he has been in for the last two years.  David is passionate about inspiring our youth to not only explore the STEM fields but also strive to be positive members of the community and he works tirelessly to help them do this.

JANET MCKINLEY | NORTHERN CALIFORNIA REGIONAL DIRECTOR
Janet has been involved with FIRST for over 7 years since her daughter joined FRC Team 692, The Fembots of St Francis High School, Sacramento.  During that time she was mentoring many areas of the team and was the head coach for the 2012-2013 season.  Janet has also served as the Volunteer Coordinator for the Sacramento Regional for the last 3 years.  As if that wasn't enough, Janet spent the last 2 years also volunteering for FLL and FTC as referee, scorekeeper, judge and even tournament director.  She is already enjoying the challenges of her new role and is expecting it to be the hardest fun ever.
RICK SISK | SOUTHERN CALIFORNIA SENIOR MENTOR
Rick Sisk found the magic of FIRST when he helped his wife Dona start a rookie FRC Team in 2008. Since then, he has helped start and mentor several rookie teams, as well as acted as a judge at the Los Angeles and Phoenix regionals and the Championship in Atlanta. Sisk served in the Air Force at Langley AFB in VA. This is where he learned about computer programming, which led to his current position at Sage Software in Irvine, designing applications that run many small and medium-sized businesses around the world.